There are times in our lives where things can get a little extra frantic.
Job changes, children, partnerships and finances can all create added stress, and although we know to take a breath and put things into perspective, sometimes we could do with a little helping hand.
The great news is there are many natural health options available nowadays that provide support to cope with those added pressures, reducing the need to reach for blocks of chocolate or an afternoon tipple.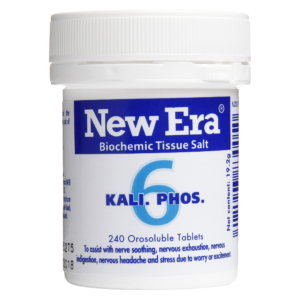 New Era No.6 (Kali Phos) is known as "The Natural Tranquiliser". This mighty mineral promotes a feeling of well-being and calm.

If we are depleted in this mineral, symptoms may present as:
Anxiety, depression, panic attacks
Lethargy, exhaustion
Sleeplessness
Nervous headaches
Poor concentration
Food cravings, indigestion
School children and infants often need this calming tissue salt. They may show signs of fretfulness, ill-humour, bashfulness, timidity or laziness, become over excited, hyperactive and disruptive; any display of what is sometimes described as "tantrums" may be regarded as a symptom of the mineral deficiency.
This Natural Tranquiliser helps maintain a happy, contented disposition and sharpens mental focus, memory and concentration. This mineral helps calm stomach butterflies, worry and those over emotional – ideal for those studying, going for job interviews or starting new projects.
No.6 is a powerful nerve nutrient that provides support for a wide range of nerve functions and conditions. It has been used for those suffering from restlessness, mental burnout, exhaustion, anxiety, stress, frayed nerves and hyper-sensitivity along with skin ailments like shingles and helpful for breathing in nervous asthma.
It is a great natural remedy for nervous headaches, nervous dyspepsia, sleeplessness (with a busy mind and racing thoughts), depression, weariness, lowered vitality, grumpiness and many other conditions which may be summed up as a "lack of get up and go".
No. 6 has been specifically created into a unique fastmelt mini tablet that dissolves quickly under the tongue. This allows the minerals to be rapidly absorbed and utilised by the body; important when a fast, first aid approach is required.
It doesn't need to be taken with food, can be taken with other natural supplements and medications and safe for all ages, making it an ideal, convenient supplement to keep on hand for when stressful times may arise in your family.