New Era Tissue Salts were developed by a prominent German Doctor, Wilheim Heinrich Scheussler in the late 19th century. Schuessler identified 12 essential mineral salts, and administered them singly or in combination with one another.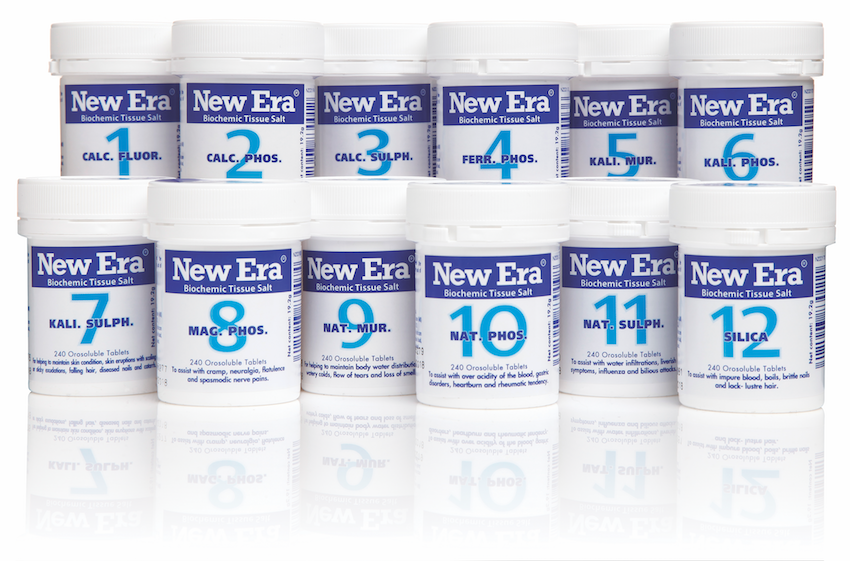 New Era Tissue Salts are prepared using Dr W.H. Schuesslers traditional method of finely grinding mineral ingredients to tiny particles, a process known as trituration. This manufacturing processes produces the unique 6 x potency 'FastMelt', orusoluable tablets, for which New Era is famous. The tablets are moulded rather than compressed therefore the minerals are rapidly absorbed and utilised for maximum effectiveness in the body – ideal when a first aid approach is required.
New Era is the only brand of tissue salts that is compliant with the original production methods of Dr W.H. Schuessler. The production of these salts is carried out in accordance with the rules laid down by the Italian and English Ministry of Health which have been granted registration and in accordance of the British patent GB2527483.
New Era Tissue Salts are manufactured in Italy using raw materials of the highest quality, strictly in accordance with the German Homeopathic Pharmacopoeia, the European Pharmacopoeia and comply with international production standards.
It is with these meticulous standards and ongoing testing New Era can guarantee premium quality products.

New Era tissue salts are suitable for all ages – ideal for infants and those who struggle swallowing tablets. They can be used for acute or chronic conditions and are safe to be taken alongside prescription medication, other dietary supplementation and during pregnancy.