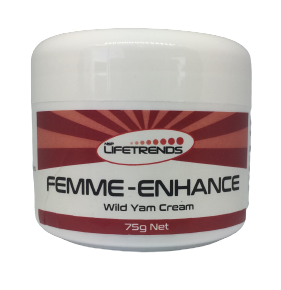 FEMME ENHANCE
LifeTrends Femme Enhance is a powerful blend of organic wild yam and natural oils to support healthy hormone balance. Wild Yam has been shown to provide support for uncomfortable symptoms such as hot flashes, night sweats, mood swings and hypertension often experienced pre-menstrual, perimenopause and during menopause.
The effectiveness of this formula comes from a synergistic combination of six multiple strength complex potencies of Dioscorea Villosa (Mexican Wild Yam) along with MSM to penetrate deep into the skins layers for optimal bioavailability.
The use of Wild Yam cream can offer a natural alternative for hormonal balance without the side effects or toxicity from prescription products.
Ingredients
Wild Yam (Dioscorea villosa ), MSM, avocado oil, coconut oil, vitamin E (mixed tocopherols), purified water
Lifetrends Femme Enhance is paraben free, non-allergenic and guaranteed to be 100% free of synthetic progesterone or other hormones, harmful chemical additives and fillers.
Recommended use
Apply approx 1/2 tsp cream on the body including the belly, inner thigh and upper arm
Size
Available in 75g pot